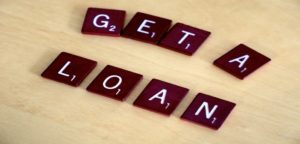 You can get a loan to live on your own even if you have bad or no credit. These tips on how to get a loan will help you can transition into a new life. The first tip is from a reader who needs money to leave her husband. She didn't get a loan – she's saving money to live on her own – but her advice is priceless.
She says: "I started funneling $200 every payday ($400 a month) from the account where my husband's checks were deposited. And I just forgot about it! I saved other money here and there into my mad money fund stashed at my house. If you want to get a loan so you can live on your own, it's important to build up these accounts. It's also very important to build up cash for emergencies, in case you can't wait for the bank to open. I stash my cash in an empty Lysol wipes plastic container that sits with other cleaning products under my sink. My hubby would never find it. Thieves usually don't clean either. I have a four year plan for living on my own. I cleaned up my credit rating and keep an eye on it to make sure it's always in good standing so I can rent anywhere."
Even if you know exactly how to get a loan to live on your own, you need to be careful about how you spend your money. I buy all my clothes secondhand, and save up for big things like vacations (I took the photo above on vacation on Peru) and mortgage payments.
How to Get a Loan So You Can Live on Your Own
"Just because you can afford it doesn't mean you should buy it." ~ Suze Orman.
Formulate a long-term plan for how you will spend your loan
What is your loan for, and do you have a long-term plan for how you'll use it? Break down the expenses of living on your own. If it's possible to take plan ahead, start researching how much your bills and expenses will be. Four years (like my reader is planning) is a long time to wait – not to mention hoping your hubby doesn't accidentally find the money stashed away under the sink.
But, creating a long-term plan is one of the best tips on how to get a loan without credit, so you can prepare yourself to live on your own. This will help you transition emotionally and financially, and research how to get a loan. Try not to make an impulse decision to apply for a big bank loan to live on your own. It's better to take it one step at a time, and think through your steps to independence.
Search for organizations that loan money (not banks)
I found a non-profit organization in New Jersey that offers several different types of loans for people who have bad credit. The company is NORWESCAP, and it helps individuals and families transition to independence financially, professionally, and socially.
They offer financial loans to people with bad or no credit. One of the programs is the Family Loan Program, which offers small loans (from $3,000 to $500) to help people maintain their employment. There are terms to the loan agreement, such as paying the money back within two years and being employed at least 20 hours a week.
That may not be the loan that will help you live on your own – but there are other programs like this. Some of them – such as NORWESCAP – even "make" you take a financial counselling course, which I think is awesome.
Are you thinking about college or university? Read Scholarships for Women Going Back to School.
Learn financial responsibility on your own
If you want to live on your own, you need to show that you're financially capable of getting the loan and paying it back. You have to prove that you're a good financial risk for whoever is loaning you the money – the bank, your family, or even a non-profit organization that specializes in supporting people financially as they go through transitions.
Even if you know how to get a loan to live on your own, you should think through your options. Loans are both good and bad – they can be a source of freedom or a burden.
If you're struggling to achieve financial independence, read   The Total Money Makeover: A Proven Plan for Financial Fitness by Dave Ramsey. The more you learn about things like budgets, emergency savings, and saving money, the less you'll need to rely on loans or other people.
Are you hoping to get a loan so you can live on your own? I welcome your thoughts below.