Yesterday, I learned the best ways to find peace at Christmas (or any time of the year). Today, a friend on Facebook said he's feeling anxious but isn't sure why. Put one and one together, and you get six tips on how to find Christmas peace.
"It isn't enough to talk about peace. One must believe in it. And it isn't enough to believe in it. One must work at it." – Eleanor Roosevelt.
How have you tried to find or work at peace in your life? Spirituality is my source of peace. Acceptance and surrender helps me be carefree. Care free. Isn't that a lovely thought, to be carefree? Free of burdens, worries, anxieties, fears, chains, negativity, heavy weights.
"Do not be anxious about anything, but in every situation, by prayer and petition, with thanksgiving, present your requests to God." – Philippians 4:6.
You can be carefree.
6 Ways to Find Peace at Christmas
Root out the sources of conflict in your life. What makes you feel anxious, worried, scared, unhappy? Are you struggling with a relationship (eg, your first Christmas after a breakup), a certain person (eg, a family member who brings conflict and angst), or a financial problem (eg, learning how to attract money when you're starting over). "You have to solve things," said Pastor Owen yesterday at church (I go to Lynn Valley Full Gospel in North Vancouver, BC). "You can't drag stuff around with you." What emotional or spiritual chains do you need to break free from?
Pay particular attention to vague feelings of anxiety. If you can't identify a particular source of conflict, don't give up on these ways to find Christmas peace! I believe there is a reason you don't feel peace, even if that reason isn't immediately obvious to you. "You can't have peace of mind if you have conflict in your spirit," said Owen. How is your spiritual life – when was the last time you connected with God? When was the last time you had a meaningful conversation and connection with another human being? Connection brings feelings of peace because it helps you feel not so alone, not so isolated.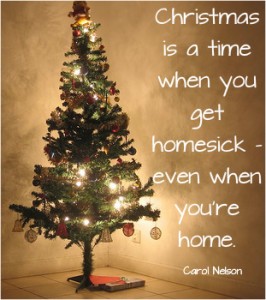 As far as it depends on you, be at peace with people. Christmas peace isn't something we should seek in December, it's something we need to be working on all year round. If you offended or hurt someone, apologize. If you cheated or lied, make amends. If you made a mistake, fix it. Don't avoid your actions. Face the consequences, wipe the slate clean, and move on. This tip for finding Christmas peace requires humility and strength.
Find the balance between surrender and action, acceptance and activity. I LOVE Valley Church, but it took me several years to find it. I visited all sorts of churches in North and West Vancouver, but didn't really feel comfortable in any of them. It wasn't until I threw a neighborhood party that I met a couple who go to Valley Church, and who invited me and Bruce to attend. But we couldn't have enjoyed attending Valley Church until other things happened in our spiritual lives – so even though it felt like it took forever to finally find our home church, there was a reason we had to wait so long. I believe finding peace is similar: we need to work towards achieving a peaceful state of mind, but we also need to surrender and accept God's will.
Remember that what you reap, you sow. Perhaps one of the best ways to find Christmas peace is to pay attention to what you're spreading around. "If you give out anger, you'll live in an angry world," said Pastor Owen. If you give out peace, you'll live in a peaceful world. You'll taste the peace that surpasses all understanding.
Dig into the true meaning of Christmas peace. What does Christmas peace mean to you? It's not just about family, relationships, love, connection, or giving. If you want peace at Christmas and all year round, you need to meet and stay connected to the Prince of Peace. For me, it's the Holy Spirit. I feel peaceful, happy, and full of positive energy when I connect with God's spirit through prayer, singing, reading, and walking in the forest with my dogs.
"For to us a child is born, to us a son is given, and the government will be on his shoulders. And he will be called Wonderful Counselor, Mighty God, Everlasting Father, Prince of Peace." – Isaiah 9:6.
What do you think of these ways to find peace at Christmas? I welcome your thoughts below.
If your holiday season is a spiritual wasteland, read How to Increase Spirituality at Christmas.