These steps to finding a job you love will help you, whether you need to know how to choose a career for the first time or change careers after a job loss or layoff.
Today, my Little Sister and I (we're matched through the Big Sisters program) went on a guided nature walk with a biologist. We were at the Lynn Valley Canyon in North Vancouver, BC, and it was awesome! Tricia the biologist seemed to know everything about the trees, ferns, birds, slugs, and even the lifeless shrew we found on the trail. Mother Nature is her career, and it seems like an awesome one.
My Little Sister asked me if I would ever be a biologist. I said no, I can't choose a new career now – I'm halfway through my MSW (Master's of Social Work) and I love blogging as a profession. I asked if she wanted to be a biologist, and she said she didn't know how to choose a career because she's interested in everything! She thinks she wants to be a doctor or a writer. I said she could be both. Why not?
How to Choose a Career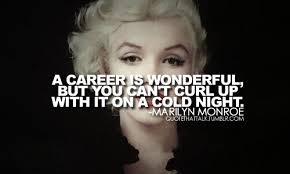 The most important thing to know when you're choosing a career is that you can change your mind. I taught grade 8 and high school for three years, and will probably never teach again. I've held more than 60 jobs (I'm 43), and I don't believe in being tied down to one specific career or job.
If you try to choose a career based on something you want to do for the rest of your life, then you'll be overwhelmed and paralyzed. Instead, I encourage you to experiment and explore with different types of jobs. If you find one you like, then stick with it! If you hate going to work, then try something new. Choosing a career really is as simple as this – but we tend to complicate things.
Do you want to go to school?
One of the first steps in choosing a career is deciding if you want to continue your education. I love school (which explains my two undergraduate and my Master's degrees). If you hate school, then maybe it's time to let go of your dream of being an astronaut, Supreme Court judge, or plastic surgeon. Knowing you don't want to get a degree or diploma will help narrow down your career choices.
Oh – I can't believe I forgot to mention that my husband has to choose a new career! He was laid off from work two weeks ago, and is thinking about finding an entirely new line of work. If you're choosing a new career because you're considering a layoff package, read When to Hire a Lawyer to Look at a Notice of Termination.
What's more important: financial security or following your passion?
My friend Sarah is 43 and has worked as an accountant for almost 20 years. She's never been interested in it, and is sad that she'll spend 75% of her life doing something she has no interest in. But, she makes a great salary – and for her, the financial security is worth more than choosing a career or job that she's passionate about.
What about you – would you rather be financially secure or excited to go to work every day? Me, I've been trying to find the best of both worlds for years: a job I love that pays over $100,000 a year. Maybe I should get more serious about choosing blogging as a career to make money, not "just" help people!
What could you do for hours?
I think the best way to choose a career is to find a way to get paid for something you could do for hours, for free. What activities do you get lost in? When was the last time you lost track of time – what were you doing? Blogging and dog walking are my top two choices. It's relatively easy to get paid for doing both jobs, but I definitely have to think of myself as a businessperson if I want to turn my passion into my career!
Talk to a career counsellor
If you're really stuck, consult a life coach or career counsellor. My friend Sarah never did this – and maybe her life would've been different if she had! Maybe she would have received the guidance she needed to choose a career that fit her personality, lifestyle, and goals. A counsellor can give you a test to help identify your strengths and weaknesses, which may be how you choose a career that changes your life!
Asking "How do you choose a career?" is important at any stage of life. It's not just for high school students, or 12 year olds like my Little Sister. I believe that no matter how old we are, we should always stop and ask ourselves if what we're doing at work is a career we'd choose today. If not, it's time for a new beginning!
Are you stressed about this career transition? Read How to Reduce the Stress of a Career Change