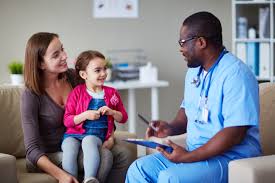 A childbirth educator's job is to teach expectant parents about having babies. In this job description, you'll learn a childbirth educator's salary, career tips, and the best and worst parts of working in childbirth education.Paolo Fiocco, a self-employed Certified Childbirth Educator, loves her job so much, it doesn't feel like a job. On the way to teaching a recent all-day class, she was involved in a minor collision that ended up costing her the entire day's pay, making her feel like she had worked for free. "But I had such a good class, and had such a good time doing it, that it didn't matter," she says. "I'm pretty sure that not too many people can say that about their jobs!"
Fiocco has been involved in childbirth education for over 14 years. Here, she shares the ups and downs of the business and offers career tips for those considering a job working with expectant parents.
Childbirth Educator – Job Description
Certified childbirth educators provide prenatal classes for expectant women and their partners.
There are no real regulations with respect to Childbirth Educators, so someone could essentially become one without any formal training. That is why it is critical for consumers to verify the educator's background and make sure it is satisfactory for the services they are paying for.
Hospitals require that their Childbirth Educators are certified.  In Ontario, Humber College, in collaboration with Women's College Hospital was the only program approved by the Ministry of Training, Colleges and Universities. However, Fiocco believes they have discontinued this program. You may also become certified through the International Childbirth Education Association which is American based.
How Much Money Does a Certified Childbirth Educator Make?
The average salary can vary tremendously, depending on your background and whether you are providing the services for yourself or for an organization. Because this is a fairly specialized job, and because there typically isn't enough work to generate a standard work week, those wages tend to be higher than you might expect. They average anywhere from about $50.00 per hour to $150.00 per hour, usually on a part-time basis. For example, you might provide a series of classes once or twice per week that run between two and three hours a session.
The Best Parts of Working in Health Education
"My job is exciting and fun….and it doesn't feel like a 'job,'" says Fiocco. "I deal mostly with expectant couples who are at a very exciting point in their lives, waiting to welcome their babies. This means they are generally very happy and eager to learn, which makes for a fun time during the class."
Fiocco says she meets a lot of great and interesting people and is passionate about the subject matter, so she enjoys teaching the classes, and her students, in turn enjoy learning. "Everyone walks away feeling good about it," she says.
One of the things a childbirth educator would know about is Kangaroo Care for Newborns and the Zaky Hand for Premature Babies.
The Downside of Working in Health Education
Fiocco says she doesn't enjoy the prep work involved before conducting classes as much as she does teaching the classes. She occasionally deals with ignorant people as well, but adds, "That rarely happens in this line of work."
If you'd rather start a business that lets you work from home, read 30 Home Based Business Ideas.
Career Tips for Childbirth Educators
Fiocco says that you must be passionate about childbirth and everything surrounding it if you are going to pursue a related career. If you are looking for a career that will become your livelihood, rather than a part-time job, she suggests choosing a midwifery or nursing career as an RN instead. "These professions have a much higher success rate of securing full time employment."
Passion for her field is what drives Fiocco to take the risk but, as she points out, "Being an entrepreneur requires patience, commitment, lots of time and money, and those things never slow down if you want to ensure continued success."
If you're interested in other education jobs – such as teaching – read 10 Best Teaching Tips for First Year Teachers.
Do you have any questions or thoughts on this Certified Childbirth Educator job description, or working in the childbirth education field? Please comment below.
To learn more about working with children, read  Nanny Job Description – What Does a ChildCare Worker Do?
Paola Fiocco, CCE, BA Hons., MBA, BEd, is a Certified Childbirth Educator through the Childbirth Educators Multidiscipline Program at Humber College in collaboration with Women's College Hospital. Graduating in 1995, she has been actively involved in various aspects of pregnancy, labour and delivery and postpartum care for over fourteen years and is the proud mother of two growing boys!  Paola provides classes at the Humber River Regional Hospital, Finch site, in North York. She is also a high school business teacher with Peel District School Board. For more information, visit www.childbirthclasses.ca.
Laura LaRocca is a freelance writer and editor.