These ways to help elderly parents manage their money are inspired by Kyle, a 42 year old husband and father of three. He cared for his mom in the final year of her life – even though both he and his wife worked full-time.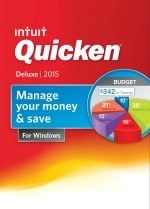 Quicken Deluxe 2015 is one of the best ways to help your aging parents manage their money is by getting and staying as organized as possible. Quicken is by far the most popular personal financial management tool on Amazon because it's intuitive and easy software that will keep you organized. If you don't currently use a financial software system to manage your money, you might want to look into Quicken.
In Managing the Costs of Family Elder Care, Amy Ziettlow describes how Kyle helped his divorced, single mother move out of her home, close out her financial accounts, settle her debts, and renovate one of Kyle's kid's rooms so she could live with them. His mom set up a payment plan so she could contribute small amounts to their food and utility costs – which is a wonderful way to help elderly parents manage their money.
How to Help Aging Parents Manage Their Money
From Kyle's story, I learned that one of the most important money management tips for elderly parents is advance planning. Kyle said that his caregiving responsibilities snuck up on him, and the cumulative costs of taking care of his mom was challenging. He wouldn't do it differently if he had a second change, but it wasn't easy to help his elderly mother manage her money, health, and daily life until her death.
Initiate innocent money conversations with your parents today
When was the last time you talked about money with your aging parents? Whether you talk about finances never or always, now is the time to start getting more personal about money management. For example, ask your parents for their opinion about giving kids an allowance or how much money your parents earned in their first job. Talking about money can be difficult – especially when your end goal is to help elderly parents manage their money – which is why it's important to start having financial conversations as early as possible. Even if your mom and dad are currently financially successful and capable of managing their money, now is the time to start talking about finances. If possible, save the more difficult money conversations for later – but use today to "set the stage" by talking about innocuous money management tips.
If your aging parents refuse to talk about how they manage money, read How to Cope With Controlling Parents.
Accept that the ability to manage money successfully is a sign of cognitive health in elderly parents
"Financial capacity has emerged as a key activity of daily living in understanding functional impairment and decline in patients with mild cognitive impairment and dementia," said Daniel Marson, Ph.D., J.D., professor in the Department of Neurology and director of the Alzheimer's Disease Center at the University of Alabama at Birmingham. "The capacity to manage one's own financial affairs is critical to success in independent living. Impairments in financial skills and judgment are often the first functional changes demonstrated by patients with incipient dementia. And breakdowns in financial management skills can be devastating."
Talk to your parents at least once a week
"My mother was having some lapses in memory and I was attempting to help with certain things," says Connie Cousins in Make Financial Arrangements With Your Elderly Parents to Forgo Future Problems. "She willingly spelled out her wishes for health care and we went to a lawyer where she signed over her house to me and my two sisters…Shortly after taking that step, an unscrupulous company sold her a new roof — at a very inflated price. I was able to stop the transaction and have the contract declared void because she legally did not own the house." One of the best ways to help your elderly parents manage their money is to stay on top of their financial decisions and purchases – especially if they aren't living under your roof.
Know the warning signs of impaired money management abilities in aging parents
Here are five signs your parents many need help managing their money:
Memory lapses, such as forgetting to pay bills or taxes, or paying bills twice
Poor organization of financial information flow, where a previously neat desk is now in disarray and disorganized.
Unopened mail, neglect of daily household chores and affairs.
Math mistakes in everyday life, such as figuring out a tip, balancing a checkbook or needing help with the steps of a calculation.
Confusion, such as an decrease in the ability to comprehend basic financial concepts.
Impaired financial judgment, particularly a new interest in get-rich-quick schemes. A classic sign is that an elderly parent would not have considered the scheme five years ago and is now listening and interested. Another sign is unrealistic anxiety about personal finances and money management abilities.
Learn specific ways  to help your elderly parents manage their money
As a caregiver, you might oversee your parent's checking transactions, contact the bank to detect irregularities such as bills' being paid twice, or become co-signers on a checking account so that joint signature is required for checks above a certain amount. You might also consider online banking and bill-payment services.
Stay informed about the different types of financial frauds against elderly people
In Staying Safe: Financial self-defense for senior citizens, Jan Johnson discusses the most popular financial crimes against seniors. Health care and medical insurance fraud, counterfeit prescription drugs, reverse mortgage scams, and funeral and cemetery fraud are common ways to steal money from an elderly parent – and the more you know about these types of crime, the better able you'll be to protect your parents.
Join a support group for family caregivers
In 10 Tips for Caring for Parents With Dementia, I describe how valuable it can be to join a support group for caregivers of aging parents. This is especially important when money management is involved, because a mom or dad with dementia may be more likely to get confused and irritable about financial affairs. Talking to other people who are dealing with similar issues can help you help your parents age well.
If you can't help your elderly parents with the day-to-day practicalities, read How to Help Your Mom Move to a Group Home for Adults. I wrote it while helping my mother transition to an adult group home for people with mental health issues.
If you are a retiree on a fixed income then you may find yourself in need of a non-traditional loan that will not increase your monthly bills. One such loan option is a reverse mortgage. However, when you visit reverse mortgage lenders to inquire about loan terms, you must check the fine print before agreeing to loan terms. Be aware of one of the reverse mortgage disadvantages such as the fact that the lender can sell your home to recover the loan balance if you ever vacate the property. Also, you should expect to pay higher interest rates than you would when borrowing money in a traditional way.
I welcome your thoughts on how to help aging parents manage money, but I can't offer advice or financial counseling.
Resources: Warning signs can predict seniors' diminished ability to manage money from the University of Alabama at Birmingham