Inspired by the Parable of the Valentine's Day Roses, these tips on how to plan a Goddess Party on Valentine's Day are especially for single women. I've spent many Valentine's Days alone – when instead I should have been connecting with other single women in the same situation.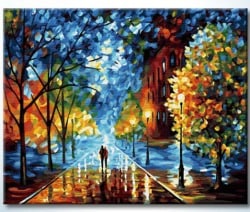 If you're planning a Goddess Party, think about a group painting project. The  Paint By Number – Paris in the Glowing Night is a beautiful way to spend part of an evening together. You'll come away from the party with part of a painting you worked on yourself, and you'll always have a momento of the Goddess Party you went to as a single woman on Valentine's Day.
If you're planning a party, I have a few tips from the Goddess Party I attended a couple years ago. But first, I want to share a parable for single women on Valentine's Day…
The Parable of the Valentine's Day Roses
Once upon a time, there was a little girl called Rosie. She lived in the middle of a busy, loud, bustling village – but her favorite pastime was to wander deep in the countryside. She spent hours among the trees and flowers that grew wild by the banks of the river and along the fields of wheat and in the forests.
Flowers were her favorite. She loved pansies in the spring and fall, for their velvet faces and their rich smiles. She loved crocus and daffodils in the early spring for their sunny dispositions. She loved the delicate fuschia cosmos and the sweet blue cornflowers, the wild strawberry flowers and the forest floors of ivy that bore no flowers at all.
Rosie especially loved the deep, beautiful red roses that her father brought home for her mother on Valentine's Day. Her father gave Rosie daises every February 14. She loved the pretty white flowers, with their bright smiles and nodding heads, their clean, crisp, white and yellow petals. But Rosie wanted roses on Valentine's Day. As she grew older, she saw other girls her age receive bouquets of roses from boys. She watched the girls blush, whisper, sigh, giggle, and sneak kisses with the boys who gave them roses.
But she never received a banquet of roses. And so she began to hate them. What good were roses? They weren't happy and cheerful, like daisies. They didn't smile at you, and share sweet, simple secrets. They didn't laugh with you as you ran through them. Roses didn't whisper cute, funny things on the breezes. And most of all, roses pricked you when you wrapped your hand around them! Who would want a bunch of roses? Roses were heavy with fragrance, dark, fickle, wicked, naughty, and a little snotty – like the girls who received roses on Valentine's Day.
Yet she couldn't stop herself from gazing longingly at the bouquets of roses being delivered to the girls on Valentine's Day.
Then one day Rosie met a boy whose soul touched hers when their eyes met. She didn't understand their connection, she only knew that he was the one for her. She could barely admit to herself how excited she was to finally experience Valentine's Day in all its red rose glory!
Her sweetheart gave her the ugliest, most battered bouquet of roses Rosie ever saw – and he could barely look her in the eye because he was so ashamed. "I'm so sorry!" he said. "There were no roses in our village shops, so I had to go to the next three villages. Because of the drought, there are hardly any roses on Valentine's Day this year, and I couldn't find a single bouquet of beautiful red roses. All I could get were these ones, and I crushed them because I was in such a hurry to get home."
When Rosie looked at the bouquet of roses that she had wanted for so long, she didn't see their droopy heads or dry stems. She didn't see the brown thorns. All she saw was her sweetheart's love, tenderness, gentleness, and devotion to her. She also saw that she had waited for roses for so long, she failed to appreciate the beauty of the daisies she had for her whole life.
6 Tips for Planning a Goddess Party on Valentine's Day
If you feel lonely because you're single on Valentine's Day, think about what Valentine's Day means to you. Do you have a streak of Rosie in you – are you yearning for something that you didn't get when you were young? Or maybe you've bought into the commercialism of Valentine's Day, and you feel depressed and sad because it seems like the rest of the world is in love.
These tips on how to plan a Goddess Party might help you see Valentine's Day in a different way – and maybe even see yourself as a single woman who is empowered, strong, and capable of giving herself roses.
Invite women to dress like Goddesses
Encourage the single women you invite to your Goddess Party on Valentine's Day to wear clothes that make them feel authentic, real, and Goddess-like. They don't have to wear ornate costumes; Goddesses need only adorn themselves with clothes that make them feel happy, spirited, encouraged, or soulful. Feather boas, faux-fur purses, pink cowgirl boots, glittery tiara – anything and everything goes at a Goddess party!
Me, I'd wear a Sakkas Embroidered Dress. I wouldn't get all decked out in a Goddess costume – but every woman needs to make her own choice and express herself authentically during Goddess parties.
Don't listen to or feel the music; be the music
The Goddess party I attended involved a musical saw, drums, a guitar, the spoons, a musical egg, and "tap" boots (one Goddess made music by drumming the heel of her boots on the ground). Encourage your single women friends to bring whatever instruments they have to the Goddess Party – even if it's a recorder from their elementary school days or a couple of spoons from the kitchen drawer. You don't have to sing like Madonna to be the music!
Move your bodies
If you're throwing a party to celebrate women, consider a short physical activity. For instance, the Goddess Party I attended had a Nia lesson, which was fun and invigorating. It also taught us a new way to move our bodies. Consider getting a fellow Goddess to lead a short belly dance, hip-hop, or yoga lesson. The most important tip for planning a Goddess Party for single women on Valentine's Day is to remember that anything goes.
Invite your Goddesses to share
"Ode to the Female Period" was a deep-yet-funny poem read by a writer at the Goddess party I went to. I admired her writing skills, and also her courage and ease at reading in public. Some women balk at being so vulnerable – I know I do. If you're planning a Goddess party, consider asking your friends to bring something that is encouraging, positive, and uplifting to women.
Explore other worlds
I'm not into astrology, but one of the Goddesses read our Tarot cards at the party I attended. A spiritual or soulful activity can connect the group as a whole (even with individual readings) and solidify individual hopes and dreams. Not every Goddess has to have her cards, tea leaves, or palm read – but it can be interesting to explore those worlds.
Organize a gifting circle
Similar to a white elephant gift exchange, this aspect of the Goddess Party on Valentine's Day is about sharing something you cherish and going home with a gift that symbolizes someone else's heart. Everyone brings something from their home that they like, or that has special meaning to them. Bring your Goddess Gift – wrapped prettily and anonymously – and share a piece of your heart with a fellow Goddess.
If you aren't grooving on the idea of giving away something you love, read 15 Small Gift Ideas for All Occasions.
I welcome your thoughts on these tips for planning a Goddess Party for single women on Valentine's Day. If you have any ideas, please share! "I feel inwardly beautiful when I am with my girlfriends, and we are having a 'Goddess Circle.' " – Jennifer Aniston.
Many moons ago, I wrote this article for Quips and Tips for Achieving Your Goals. It was called 5 Tips for Throwing a Goddess Party.